Are you a first-time parent in India? If so, you are probably looking for the best baby monitor to watch your little one.
There are many different baby monitors on the market, and deciding which is right for you can be challenging.
This blog post will discuss the best baby monitors available in India and help you choose the right one for your needs.
The Best Baby Monitor India

Here are reviews of some of the best baby monitors in India –

1. ANMEATE Video Baby Monitor
This baby monitor is designed to work well in Indian homes, with features like wide-angle viewing and two-way talk that make it perfect for keeping an eye on your little one.
The camera also has night vision so that you can see the baby even in low light, and the monitor comes with a temp display so you can always keep an eye on the baby's temperature.
Plus, the ANMEATE Video Baby Monitor has a free app that makes it easy to keep track of babies from anywhere. You can use the zoom feature in and out to look closely around your baby's nursery and adjust the camera's pan and tilt movements.
This baby monitor, equipped with eight infrared LED lights, continuously monitors your kid's activity. With this gadget, you can lull your child to sleep from anywhere thanks to the two-way talking intercom feature, and it can also play four lullabies for them.
PROS:
Very Affordable
It's easy to install
Its battery lasts for 8 hours
There's an automatic infrared night vision
Offers Multi-camera expandability
CONS:
Its beeping sound could be too loud for some
2. Infant Optics DXR-8 Video Baby Monitor
Are you looking for the right baby monitor with an optical zoom lens? Then purchase this Infant Optics DXR-8 Video Baby Monitor with interchangeable lens technology and keep an eye on your child at all times. With this, you can quickly transition from a standard lens to zoom and wide lens.
You can watch your baby's activities on a 3.5-inch LCD screen without worrying about the films being pixelated or having a grainy quality. Additionally, using the remote control that comes with the kit, you may tilt or pan the camera to suit your needs.
This baby monitor has a long-lasting battery that allows it to operate in the power-saving mode for 10 hours and with the display screen on for 6 hours. The video goes dark while the sound stays on in power-saving mode.
PROS:
It's durable and portable
Easy setup and high-quality
It has a rechargeable battery
The sound can be activated through LED indicators
It can be expanded up to four cameras
CONS:
Expensive
It may not have a recording feature
3. Eufy SpaceView Baby Monitor
The 2900 mAh battery in this Eufy SpaceView Baby Monitor gadget lasts 7 and 17 hours in power-saving mode with the display on. You can utilize a wide-angle lens for greater focus, and a 2x zoom to observe your baby's activities closely.
Even better, you can tilt the lens 330° to inspect the corners of your baby's room or 110° to get a floor-to-ceiling view. You can also stay in touch with your child with a built-in microphone and speaker for two-way audio communication. If you are not in the room, you can still calm your crying child with this method. Additionally, this baby monitor has tabletop or wall mounting capabilities, night vision, and soothing music.
PROS:
Durable and portable
It has instant alerts
Rechargeable battery
Multi-camera expandability
Whole room coverage
CONS:
4. Sense-U Breathing & Rollover Baby Movement Baby Monitor
Have you ever wondered how you or your baby's breathing can be monitored? Well, now there is a new device that can do just that! It is a wearable monitor that attaches to your baby's diaper.
It uses sensors to track your baby's breathing and movement patterns. The monitor will then send an alert to your smartphone if it detects changes in your baby's breathing or movement.
This can be especially helpful for parents of infants at risk for Sudden Infant Death Syndrome (SIDS). Knowing that your baby's breathing and movements are being monitored can give you peace of mind.
With this coveted wearable baby monitor, you can monitor your kid's temperature, respiration rate, and sleeping posture. It determines if your child's breathing is normal or not with a high-quality sensor chipset, minimizing the possibility of false alarms.
When your baby flips over onto their stomach or body temperature changes, it notifies you. The Sense-U Baby (NEW) app, accessible on the Apple Store and Google Play, connects to this baby monitor button to give you information about your child on your smartphone. This gadget is a great choice to monitor your baby's wellbeing while away from home.
PROS:
Reliable and affordable
User friendly
It has a compact size
Easy installation
CONS:
The software running in the background may quickly drain the phone's battery life
5. VTech DM112-2 Safe & Sound Digital Audio Baby Monitor
The VTech DM112-2 Safe & Sound Digital Audio Baby Monitor is a top-of-the-line audio monitor that lets parents hear every little noise their baby makes. The product features advanced DECT 6.0 digital technology that ensures clear sound transmission without interference from other electronics in the home.
The two-parent units enable parents to be in different rooms while still hearing their baby. The monitor also has five sound-activated LED lights that will indicate the level of noise in the room, so parents can see if their baby is crying or just making normal noises in their sleep. Overall, the VTech DM112-2 Safe & Sound Digital Audio Baby Monitor is an excellent choice for any parent who wants to hear their baby without interference.
PROS:
Affordable and easy to carry
It has an excellent outdoor range
There is a two-way communication
It has sound-activated LED indicators
CONS:
The battery may not be durable
6. Philips Avent DECT Audio Baby Monitor
The Philips Avent DECT Audio Baby Monitor is a device that parents can use to listen to their baby's sounds and movements. The monitor has a base unit that plugs into an electrical outlet and a portable receiver that can be carried around the house.
The base unit has a range of up to 300 feet, and the portable receiver ranges up to 150 feet. The monitor also features two-way audio so parents can talk to their baby through the receiver.
The monitor can also play soothing music or white noise to help calm the baby. The Philips Avent DECT Audio Baby Monitor is an essential tool for any parent who wants to keep an ear on their baby.
When the monitor is out of range or has lost connection, the parent unit's indication will let you know. Additionally, you can access cordless streaming for up to 18 hours, thanks to its long battery life.
PROS:
There is a two-way communication
There is a rechargeable parent unit
It offers a sound level light indicator
Perfect for room temperature monitoring
It has a comforting night light and lullabies
CONS:
It can be slightly expensive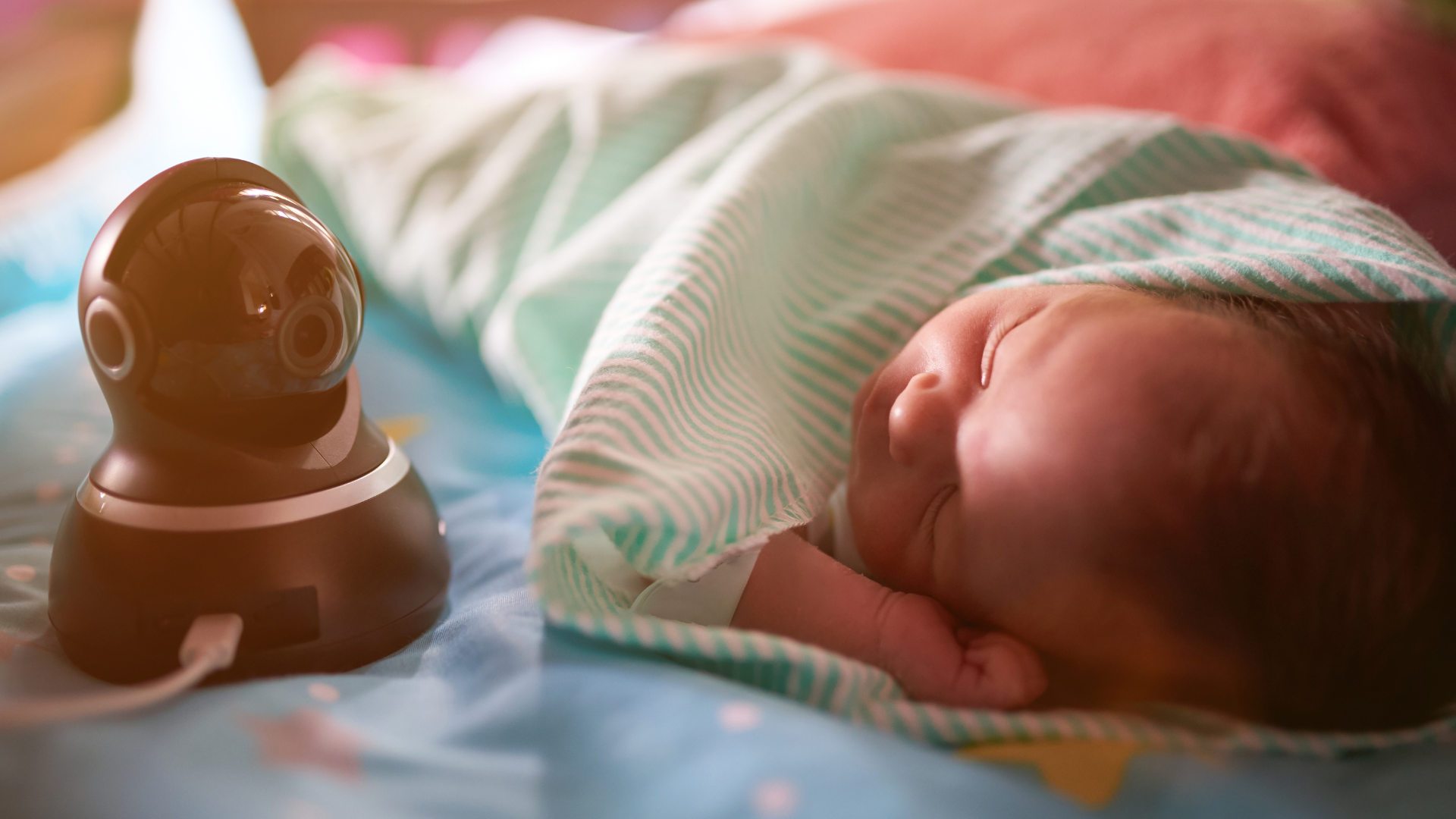 What To Look For In A Baby Monitor?
When you are looking for the best baby monitor in India, there are a few things that you should keep in mind. Take a Look –
The first is to make sure that the monitor has good reviews. You can find this information online or talk to friends who have used the product.
The second thing to look for is a monitor that is easy to use. Some monitors can be very complicated to set up and use. You want to ensure the monitor is easy to understand and use.
The third thing to look for is a monitor that has good battery life. You want to ensure that the monitor will last through the night so you do not have to worry about running out of power.
The fourth thing to look for is an affordable monitor. You do not want to spend much money on a baby monitor that you will not use very often.
Keep these things in mind when looking for the best baby monitor in India, and you will be able to find the perfect one for your needs.
Conclusion
Baby monitors have come a long way since their humble beginnings as simple audio-only devices. Today, digital baby monitors offer various features, including two-way audio, night vision, and digital zoom.
So, do you need a baby monitor for your kid? The answer may depend on several factors. If you live in a small home or apartment, a Baby monitor can help you keep an ear out for your little one while in another room.
Likewise, if you have a particularly active toddler who likes to explore, a baby monitor can give you peace of mind by allowing you to see what they're up to.
On the other hand, if you have an infant sleeping through the night, you might not need a baby monitor. Ultimately, whether or not to buy a baby monitor is up to you and will depend on your specific needs and situation.
Other Interesting Articles
10 Best Baby Cots in India for your Angel! (with Safety Precautions)
FAQs: What is the difference between a burp cloth and a washcloth?
How to Bathe Baby Safely with 10 Bathing Tips!