Do you have a little one at home who is learning to walk? If so, you may be looking for the best baby walker to help them along.
There are many different types of baby walkers on the market, and deciding which is suitable for your child can be challenging.
This blog post will discuss the pros and cons of different baby walkers and help you decide which one is right for your family!
Best Baby Walker Online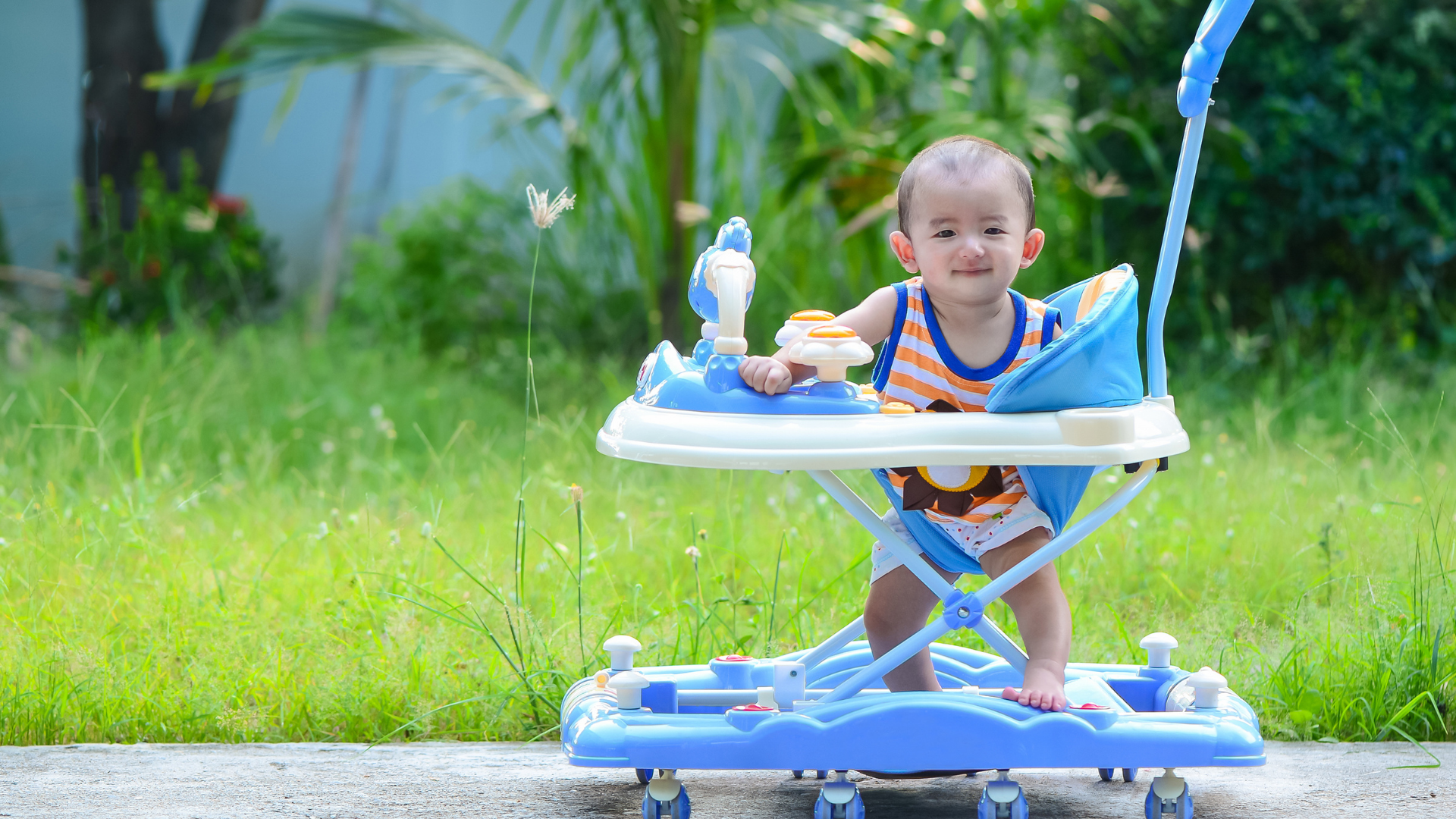 1. Sunbaby's Rideon Best Baby Walker
With Sunbaby's Rideon Best Baby Walker, parents can shop from the comfort of their own homes and have the product shipped directly to their door. This adorable baby walker, offered online, is one of the No. 1 best sellers on Amazon, which features a beautiful print and is EN-71 & BIS CERTIFIED baby walker.
It has three height adjustments, a safety lock, a padded seat, and a backrest. The cloth used is exceptionally soft, and the plastic is BPA-free. The product is easy to put together and comes in various hues, including Pink, Green, Blue, and Red.
The toys include a lovely butterfly, a driving wheel, and a music button that plays nursery rhymes, perfect for your little ones. Additionally, one can select the option of having the parental push bar if you want to help the baby during initial walking stages.

2. Simple Step Baby Walker, Mee Mee
The Mee Mee Simple Step Baby Walker is one of the most popular brands on the market and my favorite in this category. It features a wide seat that is comfortable for the baby, and it has a three-position height adjustment to grow with your child. The Mee Mee Baby Walker also has a padded bumper around the edge of the seat, which protects your child from bumps and bruises as they learn to walk.
It features an easily removable and washable padded cloth seat. This walker comes in two eye-catching colors—blue, and pink—and can be folded for simple traveling. Its sturdy and compact construction has height adjustments along with a parent push handle.
There is also a play tray with various tunes and entertaining interactive toys. You may take away these toys effortlessly and utilize the tray to feed your baby. It also has rotating wheels that only turn when the infant walks.

3. GoodLuck Baybee Galaxy Round Kids/Baby Walker
GoodLuck Baybee Galaxy Round Kids/Baby Walker is another popular products on the market with several features intended to make life easier for parents. The walker has a large tray in the center that can be used for snacks or toys, and it also includes an attractive toy to engage the kid and has an adjustable height feature.
The seat like other Baybee walkers is machine-washable, making it easier to clean and use. Additionally, the walker folds up for easy storage and has a comfortable padded seat for the baby.
4. Baybee Ziggy Baby Walker Round Kids Walker
Baybee Ziggy Baby Walker Round Kids Walker is an all-terrain stroller perfect for exploring the great outdoors with your little one. The stroller features a large, comfortable and wide seat that keeps your child safe and secure.
The Ziggy Round Baby Walker is perfect for taking your baby on hikes, walks in the park, or even just around the neighborhood.
The seat can be removed and easily washed in the machine, making it easy to clean and use. The Ziggy Round Baby Walker is also lightweight and easy to maneuver, making it ideal for use in small spaces. With its all-terrain 360 degree tires and easy-to-maneuver design, the Ziggy Round Baby Walker is sure to make any outing a success.
5. Sunbaby Hot Racer
The Sunbaby Hot Racer is a baby walker that promises to help your child quickly take their first steps. The walker features a wide base that provides stability and support, while the padded seat ensures comfort. In addition, the Hot Racer includes a built-in music player that will keep your child entertained as they explore their surroundings.
The Sunbaby Hot Racer is available in various colors, making it easy to find one that suits your child's personality. With its combination of safety features and fun design, the Hot Racer is sure to become a favorite for parents and little ones.

It comes with a push bar so that parents can support the child while walking. It is easy to assemble and disassemble, making it convenient for parents.
6. Pink Panda Baby Walker
M. Morris Panda Height Adjustable Musical Baby Walker also known as PINK PANDA Rider for Kids. It is a baby walker that helps your child to explore the world while keeping them safe. The baby walker has a wide variety of features that make it perfect for Indian families. Some features include an adjustable seat, a multi-position recline, a detachable tray, and a 360-degree swivel base.
It is designed for children aged six months to two years. Perhaps most notably, the Pink Panda Baby Walker is equipped with a padded seat that helps to support a child's back and prevent them from tipping over. The walker has a wide base that helps to prevent it from tipping over, and it also comes with a built-in tray that is perfect for snacks or toys.
7. Smart Witty Baby Walker by BAYBEE
BAYBEE's Smart Witty Baby Walker is a safe, sturdy, comfortable walker for your baby. It has an extra-wide base that provides stability and prevents tipping. The seat is padded with high sides to support your baby's back and head.
It is EN 71 certified walker which is most stringent certification defined by European standards for walkers for safety of your baby. It has 8 wheels that can rotate 360 Degrees, to ensure your baby can walk faster and in all directions.
The seat is also adjustable to find the perfect height for your little one. There are three height settings so the walker can grow with your baby. The walker also has a tray with toys to keep your baby entertained. The tray is removable, so you can easily clean it. The walker folds flat for storage, making it easy to take with you on the go.
8. Round Baby Walker By Mothertouch
Round Baby Walker by Mothertouch is one such product that has recently gained popularity. This simple baby walker is designed in such a way that it promotes natural development while also providing a safe and comfortable environment for the child.
The walker also has a snack tray and a built-in cup holder. It is made from high-quality materials and features several safety features, such as an adjustable seat and padded handlebars.
9. Goyal's Baby Musical Walker
Goyal's Baby Musical Walker is a baby walker that helps your infant learn to walk while being supported. The walker has a seat for your infant to sit in and four wheels that allow them to move around. The seat is comfortable and can be easily washed.
The walker is made of plastic and is available in different colors. The Goyal's Baby Musical Walker is a good investment because it will help your child learn to walk while being entertained with the music and toys in it. It is also a good way for you to bond with your child while they are learning to walk.
10. StarAndDaisy Anti-fall Baby Walker
The StarAnd Daisy Anti-fall Baby Walker is designed to help put your mind at ease. This walker has a safety-brake that does not let the baby topple over with the walker. It can also be used as a push-walker wherein the baby can learn to walk by pushing the walker rather than sitting in it.
The walker also has a padded seat, so your baby can rest when needed. It has speed controller that can be adjusted as per the comfort of your child. It is made of sturdy material, can be adjusted to 3 height levels, so it grows with your child.
The StarAndDaisy Baby Walker comes with a different musical tray for different color choices, so you can choose as per your liking. All in all though it is an expensive product, this multifunction baby walker is worth the price.
How To Choose The Best Baby Walker Online?
When it comes to baby walkers, there are many different types and models available on the market. So, how do you choose the best one for your child? Here are a few things to keep in mind when making your decision:
The Type Of Terrain Your Child Will Be Using
If they use it indoors, you will want to choose a model with smooth, rubber wheels. However, if they use it outdoors, you will want to select a model with rugged, all-terrain wheels.
The Weight And Height Of Your Child
When choosing a baby walker, one of the most important considerations is the weight and height of your child.
Most baby walkers have weight limits of between 20 and 30 pounds, so choosing one that will accommodate your child's size is essential. In addition, you'll want to make sure that the walker you select is the appropriate height for your little one.
Walkers with adjustable height settings are a good choice for growing children, as they can be adjusted as your child grows taller.
The Features That You Want The Walker To Have
Some walkers have built-in music players, while others have storage baskets or trays. You want to ensure that the walker has a broad base so it cannot tip over easily.
You also want to make sure that the walker has a brake system so that your baby cannot roll too far away from you. Decide which features are most important to you and your child before making your final decision.
Is It Safe To Buy Baby Walker Online?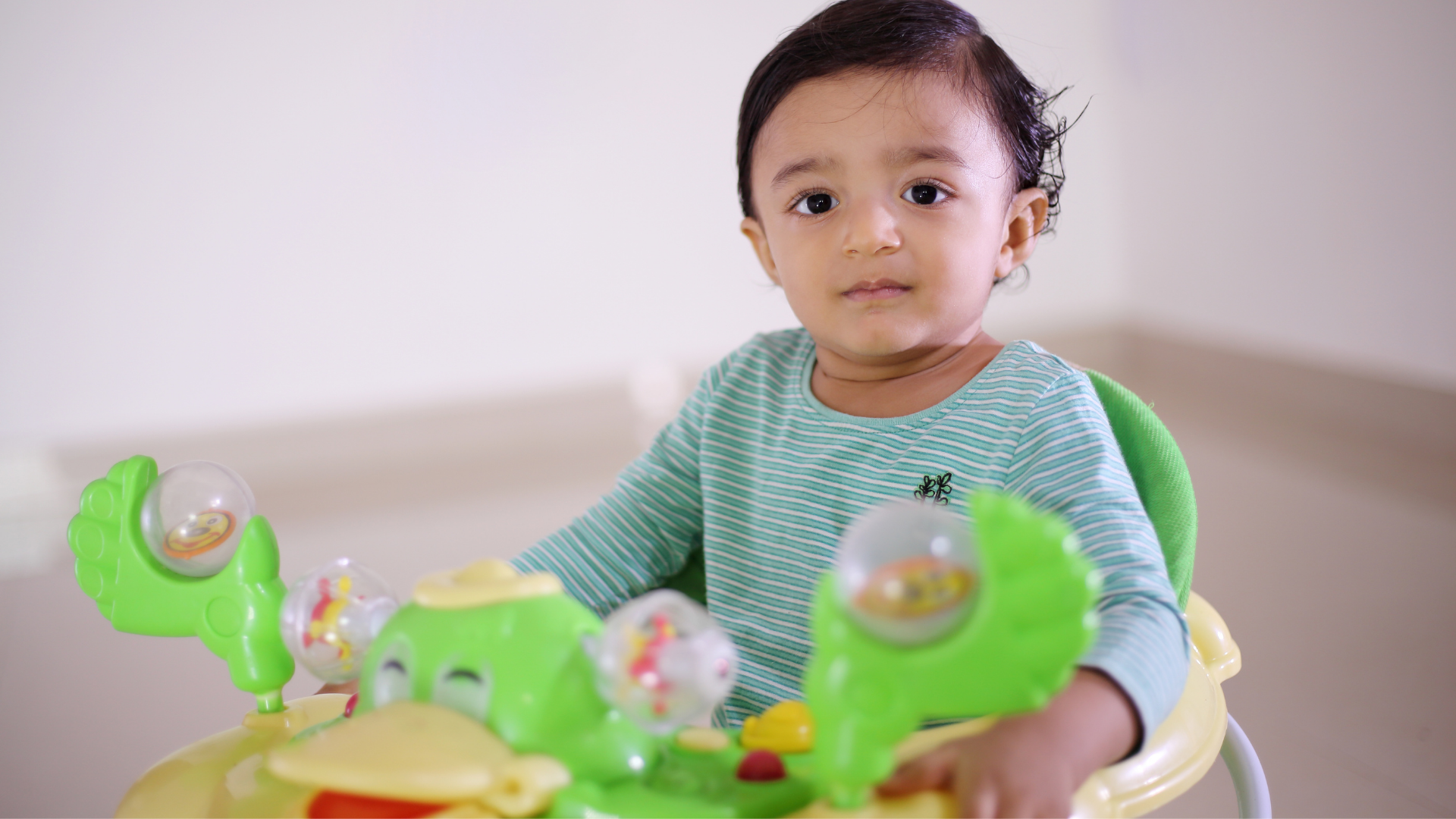 Nowadays, buying anything online has become the norm. You can buy clothes, books, toys, and just about anything else you can think of with the click of a button.
So, it's no surprise that many parents now turn to the internet to purchase baby walkers. But is it safe to do so? Here are a few things to consider before buying a baby walker online:
Make Sure You Research
Not all baby walkers are created equal. Some have been recalled due to safety concerns, so it's important to know what you're getting before you make a purchase.
Check The Return Policy
Things happen; sometimes, you may need to return or exchange an item. Make sure the company you're buying from has a good return policy if you need to use it.
Compare Prices
Just because something is available online doesn't mean it's always the best deal. Be sure to compare prices at different retailers before making a purchase.
Read Reviews
This is one of the best ways to get an idea of what others think of a product before you buy it. Be sure to read good and bad reviews to get a well-rounded idea of what you're getting yourself into.
Considering these things, you can help ensure that you're making a safe and informed decision when buying a baby walker online.
Know more Mee Mee Baby Walker Review: Perfect for 0-2 Years?
Conclusion
There you have it! Our top picks for the best baby walkers are available online. We hope our guide has helped you narrow your choices and find the perfect walker for your little one.
Baby walkers can be a great way to help your child develop their gross motor skills and explore their surroundings.
Just be sure to choose a walker with plenty of safety features, and supervise your child closely when using it.
My recommendation would be to choose StarAndDaisy Anti-fall Baby Walker if budget is not an issue for you, or if you want to just try the baby walker with a push handle the go for Mee Mee Simple Step Baby Walker since it one of the most popular brands in the market.
However, with some research, you're sure to find the perfect baby walker for your needs. Thanks for reading!
~~Happy Walking!
Other Interesting Articles
Tips for Potty Training When You're on the Go
7 Easy Steps to Wash Baby Bedding Set the Right Way!
9 Interesting Bedtimes Stories for Kids